Overview
Excellent for all levels of teaching. Demonstrates the DNA extraction process with freeze-dried E. coli cells. Cell walls are broken with a detergent, and the DNA is extracted onto a spooling rod. Allows students to visualize DNA and understand some of its properties. Also illustrates the enormous length and acidic nature of the DNA molecule.
Kit is designed for a class of 30 students or 6 separate teacher demonstrations. Requires 1 to 2 class periods to complete. With instructions.
Product Families Featuring This Item:
Resources
Living Organism Care Information
Product Support
Carolina's Biological Media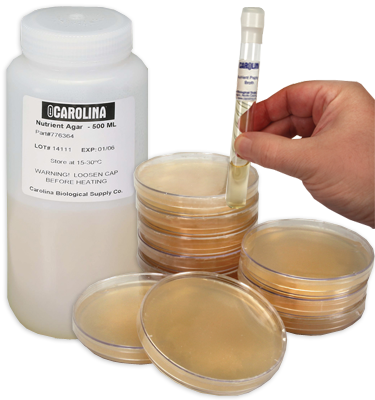 No Backorders Here—Get the Media You Need Now.
Select quality media products for the application you need.
Variety of options—bottles, plates, tubes, and dehydrated media
Fresh, sterility tested—in stock & ready to ship
Free of antibiotics, pesticides, and other chemicals
Vast selection of microbiology supplies and cultures available
Order now, ship later