Overview
The presence or absence of a fruiting body, or ascocarp, is used to classify the Ascomycetes. Set includes one example of each type of ascocarp (plate culture): apothecia (Anthracobia muellen), cleistothecia (Eurotium cheralieri), naked asci (Schizosaccharomyces octosporus), and perithecia (Sordaria fimicola). A microscope is required.
This item contains living or perishable material and ships via 2nd Day or Overnight delivery to arrive on a date you specify during Checkout. To ensure freshness during shipping, a Living Materials Fee may apply to orders containing these items.
Carolina's Biological Media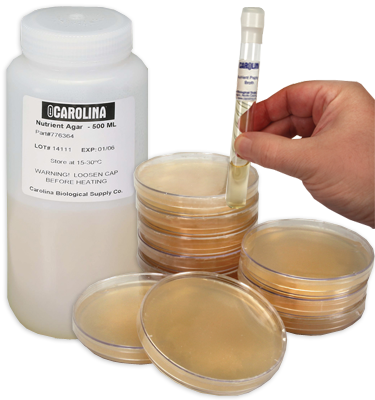 No Backorders Here—Get the Media You Need Now.
Select quality media products for the application you need.
Variety of options—bottles, plates, tubes, and dehydrated media
Fresh, sterility tested—in stock & ready to ship
Free of antibiotics, pesticides, and other chemicals
Vast selection of microbiology supplies and cultures available
Order now, ship later